Kategorie: Klimawandel
(Bright Side) Earth is a living, breathing organism. It is undergoing constant changes — glaciers melt, rivers dry up and appear again, cities expand, forests and deserts shift around. And all the while, our planet remains breathtakingly beautiful. Today, Bright Side brings you a selection of incredible NASA photos that demonstrate how the face of the world has changed over the last century!
What's most astonishing is how fast these natural and man-made changes occur. The photos below portray transformations with a time span ranging from a few decades to just one year. Some of the photographic evidence is truly unbelievable. Now you have the chance to see these beautiful and thought-provoking images for yourselves! ... Bilder anscheun unter brightside.me
Kategorie: Klimawandel
(Spiegel Online) Der vergangene Monat war der weltweit heißeste Juni seit Beginn der Aufzeichnungen. US-Meteorologen gehen davon aus, dass das Gesamtjahr 2016 einen neuen Temperaturrekord markiert. .. ganzen Artikel bei Spiegel online lesen
Kategorie: Klimawandel
(Indian Express) Temperatures are warming faster in the Arctic than elsewhere, which has led to longer seasons for plants to grow in and changes to the soils. A new NASA study has found out that due to the changing climate, Arctic regions of North America are getting greener, with almost a third of the land cover looking more like landscapes found in warmer ecosystems. With 87,000 images taken from Landsat satellites, converted into data that reflects the amount of healthy vegetation on the ground, the researchers found that western Alaska, Quebec and other regions became greener between 1984 and 2012. The new Landsat study further supports previous work that has shown changing vegetation in Arctic and boreal North America. read more at http://indianexpress.com
Video: Veröffentlicht am 02.06.2016
NASA scientists used almost 30 years of data from the NASA/U.S. Geological Survey Landsat satellites to track changes in vegetation in Alaska and Canada. Of the more than 4 million square miles, 30 percent had increases in vegetation (greening) while only 3 percent had decreases (browning).
Kategorie: Klimawandel
(NYTimes.com) LLAPALLAPANI, Bolivia — The water receded and the fish died. They surfaced by the tens of thousands, belly-up, and the stench drifted in the air for weeks. The birds that had fed on the fish had little choice but to abandon Lake Poopó, once Bolivia's second-largest but now just a dry, salty expanse. Many of the Uru-Murato people, who had lived off its waters for generations, left as well, joining a new global march of refugees fleeing not war or persecution, but climate change. ... read more at nytimes.com
Text by NICHOLAS CASEY Photographs and video by JOSH HANER
Kategorie: Klimawandel
(Heise.de) Die Energie- und Klimawochenschau: Von steigenden Temperaturen, sterbenden Korallen, überschwemmten Flusstälern und einem Landtag, der sich (fast) geschlossen der Zukunft verweigert Auch der Mai war im globalen Maßstab einer der wärmsten je beobachteten Monate, wie die neuen Daten der Goddard Instituts for Space Studies der NASA (GISS) zeigen. ... weiterlesen bei Heise.de
Kategorie: Klimawandel
(TheGuardian) Unprecedented temperature levels mean more heatwaves, flooding, wildfires and hurricanes as experts say global warming is here and affecting us now. May was the 13th month in a row to break temperature records according to figures published this week that are the latest in 2016's string of incredible climate records which scientists have described as a bombshell and an emergency. ... read more at TheGuardian
Kategorie: Klimawandel
(Thomson Reuters Foundation) Worst drought in 90 years and seawater intrusion in Mekong River delta destroy fruit, rice and sugar crops
BANGKOK, June 20 (Thomson Reuters Foundation) - An El Niño-induced drought in Vietnam has left 1 million people in urgent need of food assistance and 2 million people lacking access to drinking water, Europe's humanitarian aid agency said. The country's worst drought in 90 years coupled with seawater intrusion into the Mekong River delta have destroyed fruit, rice and sugar crops in the world's third-largest rice exporter after India and Thailand. ... read more
Kategorie: Klimawandel
(Bloomberg) It's no longer a question of whether 2016 will be the hottest on record, but by how much. The El Niño warming pattern in the Pacific Ocean is over, but unprecedented heat remains across the planet. Last month was the hottest May in 137 years of record keeping, according to new reports from NASA and the National Oceanic and Atmospheric Administration (NOAA). In an age of rising temperatures, monthly heat records have become all too common: May was the 13th consecutive month to set a new record, according to NOAA data released on Wednesday. ... read more at Bloomberg.com
Kategorie: Klimawandel
(blog.ucsusa.org) Dangerous Heat Wave to Grip the US: Top 10 Lessons to Survive Extreme Heat. - The US National Weather Service heat index forecast for June 18, 2016 looks scary. It indicates a dangerous situation that everyone who lives in the red areas in the map below should take steps to prepare for. I am not kidding. Extreme heat can be life threatening if not taken seriously .. read more ...
Kategorie: Klimawandel
(WashingtonPost) It was such a different time — and yet, the message was so similar. Thirty years ago, on June 10 and 11 of 1986, the U.S. Senate Committee on the Environment and Public Works commenced two days of hearings, convened by Sen. John H. Chafee (R-R.I.), on the subject of "Ozone Depletion, the Greenhouse Effect, and Climate Change." ... read more at Washington Post
Kategorie: Klimawandel
(Mashable.com) Another month, another shattered global temperature record. According to preliminary readings from NASA, May 2016 was the warmest such month on record for the planet, dating back to 1880. Global average surface temperatures were 0.93 degrees Celsius, or 1.67 degrees Fahrenheit, above average for the month, beating out the old record, which was set in May 2014. ... read more at mashable.com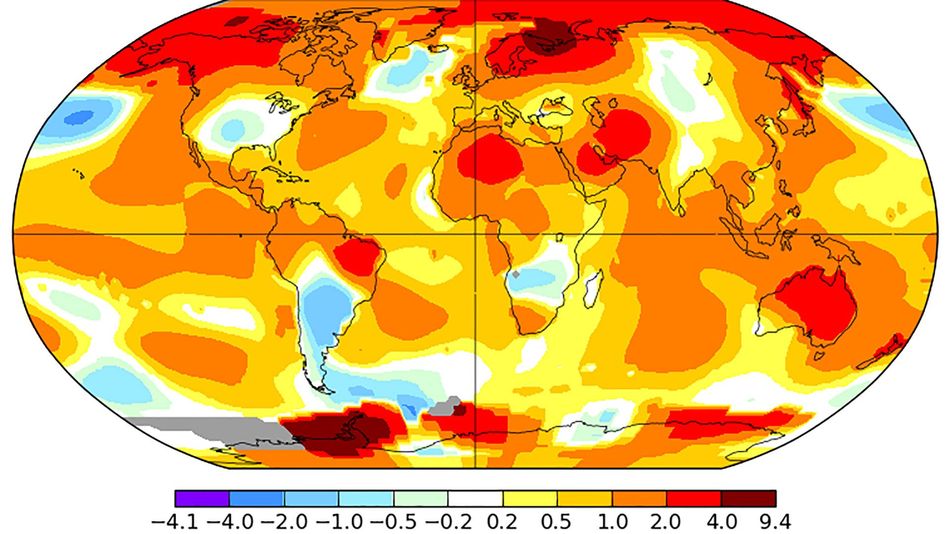 Aktuelle News
(Weforum.org) Savor your avocado toast while you can, because Instagram's most beloved food pairing is about to go the way of the dodo— and it's not alone. Global warming poses a huge threat to our planet and our crops, as it's changing the specific…
(ZeitOnline) Polen fällt im großen Stil Bäume im Białowieża-Urwald. Der Grund: Borkenkäferbefall. Aktivisten halten das für eine Lüge. Denn das Insekt gehört dort zum Ökosystem. ... ganzen Artikel auf Zeit.de lesen
Aktuelle News
in
Mobilität, Auto, Verkehr
(ZeitOnline) Null Gramm CO2-Ausstoß klingt super, ist aber gelogen. Doch wer merkt's? Professoren regen sich über E-Fahrzeuge auf und offenbaren die großen Irrtümer der Verkehrswende. ... ganzen Artikel auf ZeitOnline lesen
in
Mobilität, Auto, Verkehr
(TheGuardian) Prof Frank Kelly says fewer not cleaner vehicles are needed, plus more cycling and walking and better transit systems. Cars must be driven out of cities to tackle the UK's air pollution crisis, not just replaced with electric vehicles, according to the UK government's top adviser. Prof Frank Kelly said that while electric vehicles emit no exhaust fumes, they still produce large amounts of tiny pollution particles from brake and tyre dust,…